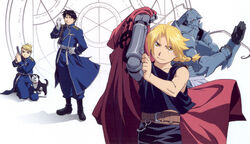 Uso 嘘 (うそ, Lie) is the first ending for the anime Fullmetal Alchemist: Brotherhood. It is performed by SID. It was replaced by Let it Out in Episode 15.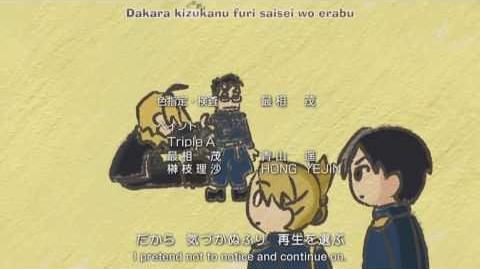 Appearances
Edit
ano hi mita sora, akaneiro no sora wo
nee~ kimi wa oboeteimasuka
yakusoku chigiri shoka no kaze ga tsutsumu
futari yorisotta muri na egao no ura, nobita kage wo kakumau
dakara kizukanu furi, saisei wo erabu
TE-BURU no ue no furuenai shirase
machitsuzukete
kuuhaku no yoru mo, kuru hazu no nai asa mo
zenbu wakattetanda
ano hi mita sora, akaneiro no sora wo
nee~, itsuka omoidasu deshou
hatasenakatta, yakusoku wo idaite
futari arukidasu
あの日見た空 茜色の空を
ねぇ君は覚えていますか
約束契り初夏の風が包む
二人寄り添った
無理な笑顔の裏 伸びた影を匿う
だから気づかぬように 再生を選ぶ
テーブルの上の 震えない知らせ待ち続けて
空白の夜も 来るはずのない朝も
全部わかってたんだ
あの日見た空 茜色の空を
ねぇ いつか思い出すでしょう
果たせなかった 約束を抱いて
二人歩き出す
Translation
Edit
The sky we saw that day, that scarlet sky.
Hey, do you still remember it? The promise we make is engulfed within the winds of the early summer,
as we cuddle close together.
A worsening pain is hidden behind the smile
you forcefully showed.
That's why I pretend not to notice.
I choose to restart from scratch
The sky we saw that day That madder red sky.
Hey, you'll remember it someday, right?
We cling on to
the promise that we
weren't able to fulfill,
as we walk away.
Translation (literal)
Edit
The sky of scarlet saw that day
Hey you Do you remember
Winds of promise pledge early summer wrap
Was snuggled up two people
I harbor a shadow that extends back of unreasonable smile
So choose the play so as not to notice
Continuing news waiting that does not tremble above the table
Night blank
I was I knew  everything
The sky of the sky madder red saw that day
You will remember someday Hey
with a sense of promise that could not fulfill
start walking two people
Ad blocker interference detected!
Wikia is a free-to-use site that makes money from advertising. We have a modified experience for viewers using ad blockers

Wikia is not accessible if you've made further modifications. Remove the custom ad blocker rule(s) and the page will load as expected.