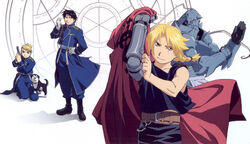 Uso 嘘 (うそ, Lie) is the first ending for the anime Fullmetal Alchemist: Brotherhood. It is performed by SID. It was replaced by Let it Out in Episode 15.
Video
Lyrics
Original
Romanization
English Translation

あの日見た空 茜色の空を ねえ 君は憶えていますか 約束 契り 初夏の風が包む 二人 寄り添った


ano hi mita sora, akaneiro no sora wo
nee~ kimi wa oboeteimasuka
yakusoku chigiri shoka no kaze ga tsutsumu
futari yorisotta

The sky we saw that day, the crimson sky;
do you remember? We made a promise, wrapped in the early summer breeze;
the two of us huddled close

無理な笑顔の裏 伸びた影をかくまう だから 気づかぬふり 再生を選ぶ


muri na egao no ura nobita kage o kakumau

dakara kizukanu furi saisei o erabu


Stretching shadows hide behind that excessive smile

So I choose to replay that imperceptible pretense

テーブルの上の 震えない知らせ 待ち続けて 空白の夜も 来るはずのない朝も 全部わかってたんだ


teeburu no ue no furuenai shirase machi tsuzukete

kuuhaku no yoru mo kuru hazu no nai asa mo zenbu wakattetanda


I keep waiting for the unshakeable notice on the table

The empty night, the morning that won't come; it all became clear

あの日見た空 茜色の空を ねえ 君は忘れたのでしょう 約束 千切り 初夏の風に消えた 二人 戻れない


ano hi mita sora akane iro no sora o nee kimi wa wasureta no deshou

yakusoku chigiri shoka no kaze ni kieta futari modorenai


The sky we saw that day, the crimson sky; have you forgotten?

The promise is broken, vanished into the early summer wind; the two of us can't go back to the way we were

音も 色も 温度も 半分になった この部屋 今日も散らかしては 揺れ 疲れ 眠る


oto mo iro mo ondo mo hanbun ni natta kono heya

kyou mo chirakashite wa yure tsukare nemuru


In this room where sound, colour and warmth are all halved

Still scattered today, trembling, exhausted, I fall asleep

「上手に騙してね 嘘は嫌いで好き」 君の言葉 今頃になって 気持ちは痛いほど だから 僕ら さよなら


jouzu ni damashite ne uso wa kirai de suki kimi no kotoba

ima goro ni natte kimochi wa itai hodo dakara bokura sayonara


"Deceive me skillfully; I love you because I hate lies", those were your words

Now, these feelings are overwhelmingly painful, so it's goodbye for us

いつかまたねと 手を振り合ったけど もう逢うことはないのでしょう 最後の嘘は 優しい嘘でした 忘れない


itsuka mata ne to te o furiatta kedo mou au koto wa nai no deshou

saigo no uso wa yasashii uso deshita wasurenai


Saying that we'll meet again someday, we waved to each other, but it seems we won't see each other again

That final lie was a kind one; I won't forget

あの日見た空 茜色の空を ねえ いつか思い出すでしょう 果たせなかった 約束を抱いて 二人 歩き出す


ano hi mita sora akane iro no sora o nee itsuka omoidasu deshou

hatase nakatta yakusoku o idaite futari arukidasu


The sky we saw that day, the crimson sky; will you remember someday?

Embracing a promise that could not be fulfilled, the two of us set out
Appearances
References
Ad blocker interference detected!
Wikia is a free-to-use site that makes money from advertising. We have a modified experience for viewers using ad blockers

Wikia is not accessible if you've made further modifications. Remove the custom ad blocker rule(s) and the page will load as expected.