Ad blocker interference detected!
Wikia is a free-to-use site that makes money from advertising. We have a modified experience for viewers using ad blockers

Wikia is not accessible if you've made further modifications. Remove the custom ad blocker rule(s) and the page will load as expected.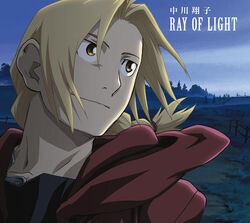 "RAY OF LIGHT" is the fifth ending for the Fullmetal Alchemist: Brotherhood anime series, following "Shunkan Sentimental". It is performed by Shoko Nakagawa and ran from episode 51 to episode 62.
Appearances
Edit
Japanese Romaji
Edit
Ano hi kara zutto Nakanaito kimete kitakedo
itami wo kasanetemo Nanika wo yurusezu ni ita
mou modorenai Ikutsumo no hibi
boku wa mada nanimo dekizuni
Kimi no ita kioku no kakera mata hitotsu kieteyuku
Kyou yori motto, tsuyoku naritai
Kono koe ga itsuka todokuyouni, Aruki tsuzukete Kaze ga yandara,
kimi wo sagashite sora miageruyo
Yoake no saki ni hikari ga sasuyo
Niji ga kakaruyo...
Ever since that day passed,
I promised myself that I'd never cry,
But even while I hoarded up the pain,
There was something I
Couldn't forgive myself for,
I'll never be able to return those days,
I'm still powerless,
I watch as the shards of memories disappear one by one
Memories of when you were still with me.
I long to become, stronger than I am now,
So that my voice will eventually reach you.
If the wind happens to stop in the midst of my long journey,
I'll look up at the sky in search of you.
Beyond the daybreak,
A ray of light breaks free.
A rainbow spans across the sky...
English - Full
Edit
I brought down hell on earth that day And ever since, I've given up the right to cry Even when I accept all the pain It's not something I can ever justify
Dreaming the laughter, the times I can't return to,
(Chorus)
There's so much I've locked up inside
Ever unending, this road I'm on continues
(Chorus 2)
And I want to find a way
To be stronger than today
To let go of the losses for the sake of what I found
If my teardrops turn to rain
And I stumble through the pain
I'll look up in the starlight for you, sing alleluia
I'm holding on until the clouds are colored with the sun
(Bridge)
All the mysteries are getting deeper
You'd think growing up would make it clearer
Every life is made of countless things that I can't comprehend 
All that I believe is somehow, far beyond the edge of sky,
We'll connect at last, be as one again
(Chorus 3)
And I swear I'll find a way
To be stronger than today
And maybe, someday, you will hear me calling out to you
If I walk another mile
I just know I'll find your smile
I'll look up to the heavens for you, sing alleluia
I'm holding on until the light turns darkness into dawn
Clouds now colored by the sun