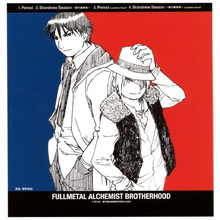 "Period," performed by the band CHEMISTRY, is the fourth opening theme of Fullmetal Alchemist: Brotherhood. It replaces "Golden Time Lover" in episode 39 and runs until episode 50, when it is succeeded by "Rain" by SID.
Video
Appearances
Lyrics
Japanese Rōmaji
Owarinaki tabi no tochuu tachidomarisou na toki
Fukai tameiki kobosu bokura wa

Tsukamikakete wa mata hanareteitta
Demo ima wa mō nanimo osoreru koto wa nai

Kokoro wo tsunagu tsuyoi kizuna wa
Keshite hodoke wa shinai sa
Sagashitsuzukete tadoritsuita
Kono basho de periodo ni

Kanashimi ikari chikara ni kaete
Unmei wa sugu soba ni
Kanji
終わりなき旅の途中 立ち止まりそうな時
深いため息こぼす 僕らは
掴みかけてはまた離れていった
でも今はもう何も恐れることはない
心を繋ぐ強い絆は
けして解けはしないさ
探し続けて辿り着いた
この場所でPeriodに
悲しみ怒り力に変えて
運命はすぐそばに
English Translation
Along our endless journey,
whenever it looked like we might stop,
releasing a deep sigh,
we'd begin to take hold of each other,
but then come apart again.
But now, there is nothing more to fear.
The powerful ties that join our hearts
will never be broken.
Here in this place where we have arrived
after searching for so long, we'll place a period.
Turning our sorrow and anger to strength
our destiny is right beside us
Ad blocker interference detected!
Wikia is a free-to-use site that makes money from advertising. We have a modified experience for viewers using ad blockers

Wikia is not accessible if you've made further modifications. Remove the custom ad blocker rule(s) and the page will load as expected.