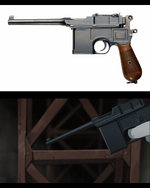 During episode 34 and 35, Captain Buccaneer can be seen armed with a Mauser C96, firing a shot at Edward Elric's feet when he suspects him of being a Drachma Spy. He's later seen holding it on the Elrics and after on Vato Falman when forcing them to help defend Fort Briggs from the Homunculus Sloth.
The Mauser C96 (Construktion 96) is a semi-automatic pistol that was originally produced by German arms manufacturer Mauser from 1896 to 1937.
Ad blocker interference detected!
Wikia is a free-to-use site that makes money from advertising. We have a modified experience for viewers using ad blockers

Wikia is not accessible if you've made further modifications. Remove the custom ad blocker rule(s) and the page will load as expected.