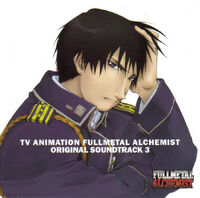 Fullmetal Alchemist Original Soundtrack 3 is a soundtrack album containing music from the first Fullmetal Alchemist anime series.
Tracklist
Edit
Rewrite (リライト)
Brothers (兄弟)
Crossroads (岐路)
Sorrow (哀切)
Faith (帰依)
Carefree (暢気)
Plot (策謀)
Regret (後悔)
March (進軍)
Song of Triumph (凱歌)
Brave Fight (敢闘)
Hope (希望)
Motherland (Motherland)
Reminiscence (追憶)
Undo (UNDO)
Dance (舞踏)
Underground (潜行)
Suspicion (嫌疑)
Invasion (侵略)
Rule (支配)
Mourning (哀傷)
Song of Parting (piano solo) (別れの曲(piano solo))
Conquest (征圧)
Devastation (蹂躙)
Destiny (運命)
Song of Parting (別れの曲)
I Will (I Will)
Track 1: lyrics and composed by Masafumi Goto, arranged and performed by ASIAN KUNG-FU GENERATION
Track 13: lyrics by H.U.B, composed by YANAGIMAN, arranged by Ken Matsubara, performed by Crystal Kay
Track 15: lyrics and composed by Hiroya Ishikawa, arranged by Junji Yayoshi and COOL JOKE, performed by COOL JOKE
Track 27: lyrics by Shoko Fujibayashi, composed by Tetsuhiko Suzuki and Tomoji Sogawa, arranged by Takuya Harada, performed by Sowelu
Tracks 22 and 26: composed by Frédéric Chopin
Track 25: composed by Ludwig van Beethoven
Tracks 2-12, 14, 16-21, 23 and 24: composed and arranged by Michiru Oshima
External links
Edit
Ad blocker interference detected!
Wikia is a free-to-use site that makes money from advertising. We have a modified experience for viewers using ad blockers

Wikia is not accessible if you've made further modifications. Remove the custom ad blocker rule(s) and the page will load as expected.