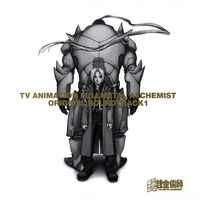 Fullmetal Alchemist Original Soundtrack 1 is a soundtrack album containing music from the first Fullmetal Alchemist anime series.
Tracklist
Edit
Track 3: lyrics by Haruichi Shindo, composed and arranged by ak.homma, performed by Porno Graffiti
Track 33: composed and by Susumu Nishikawa, lyrics and performed by Nana Kitade
Tracks 1, 2 and 4-32: composed and arranged by Michiru Oshima
External links
Edit
Ad blocker interference detected!
Wikia is a free-to-use site that makes money from advertising. We have a modified experience for viewers using ad blockers

Wikia is not accessible if you've made further modifications. Remove the custom ad blocker rule(s) and the page will load as expected.