Fullmetal Alchemist Complete Best is a soundtrack album containing music intros/closers.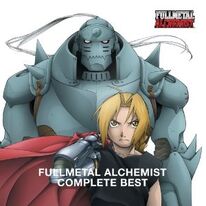 Tracklist
Edit
1. Melissa (first season intro)
2. Kesenai Tsumi (first season closer)
3. Ready Steady Go! (second season intro)
4. Tobira No Muko He (second season closer)
5. Undo (third season intro)
6. Motherland (third season closer)
7. Rewrite (fourth season intro)
8. I Will (fourth season closer)
Ad blocker interference detected!
Wikia is a free-to-use site that makes money from advertising. We have a modified experience for viewers using ad blockers

Wikia is not accessible if you've made further modifications. Remove the custom ad blocker rule(s) and the page will load as expected.