The Land of Sand
Sareki no Daichi (砂礫の大地) is the first Light Novel in the FullMetal Alchemist Series.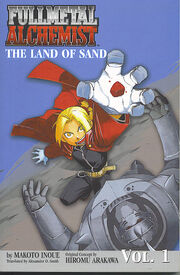 Golden Hair
Silver Eyes
Crimson Water
Epilogue
The Phantom of Warehouse 13
Edward and Alphonse Elric continue their search for the Philosopher's Stone in the mining town of Xenotime where it is rumoured that someone is trying to create gold out of stone to revive the dying city. When they arrive, they discover two brothers, Russell and Fletcher Tringham are using the Elric brothers' names to continue their father's research in the alchemic lab run by town leader Mugear. While Edward and Russell argue and fight over the name, the two younger brothers talk.
The Other Elric Brothers Part 1
The Other Elric Brothers Part 2
The Flame Alchemist, The Bachelor Lieutenant, and the Mystery of Warehouse 13