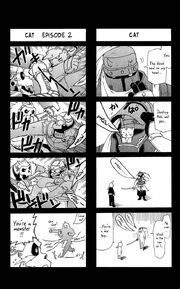 The
Four-Panel Omake
are comedic comics at the end of most volumes of the
manga
. They often delve deeper into the backgrounds of
characters
, such as the animal preferences of the
Slicer Brothers
.
Hiromu Arakawa has often said that the bonuses are her favorite part of the manga.
Although Fullmetal Alchemist: Brotherhood is a more faithful adaptation of the manga, each Omake is not adapted into 4-Koma Theater, the anime's version of omakes; instead the anime creates its own content.
The characters in the omake are often drawn in a chibi style.
Ad blocker interference detected!
Wikia is a free-to-use site that makes money from advertising. We have a modified experience for viewers using ad blockers

Wikia is not accessible if you've made further modifications. Remove the custom ad blocker rule(s) and the page will load as expected.