Ad blocker interference detected!
Wikia is a free-to-use site that makes money from advertising. We have a modified experience for viewers using ad blockers

Wikia is not accessible if you've made further modifications. Remove the custom ad blocker rule(s) and the page will load as expected.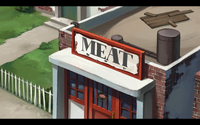 Curtis Meats
is a butcher shop in
Dublith
run by
Izumi
and
Sig Curtis
. Its only other employee is
Mason
. It is quite narrow, but likely goes back a fair distance, judging from views of the inside. The front is rather plain, with a large sign above the door reading "MEAT" and a chalkboard out front for specials. It may also be connected to the Curtis house. The shop boasts a wide variety of meats—including beef and mammoth—as well as cheese, garlic, and spices.
Pork Tenderloin - 128 cenz/100g
Chicken Breast - 160 cenz/100g
Beef Shoulder - 200 cens/100g
Beef/Pork Combo - 98 cenz/100g