Again
Talk

0
722pages on
this wiki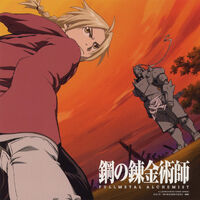 "Again" by Yui is the first opening theme for Fullmetal Alchemist: Brotherhood , serving as the opening for the first season. It was released on June 3, 2009 in two formats: a CD and a Limited Edition CD+DVD. "Again" appears on Yui's album Holidays in the Sun and is succeeded by "Hologram" in Episode 15.
Japanese Rōmaji
Kono omoi wo keshite shimau niwa mada jinsei nagai desho?
Yarinokoshi te'ru koto yarinaoshite mitai kara
Yume no tsuzuki oikakete ita hazu nano ni
Magarikunetta hosoi michi hito ni tsumazuku
Ano koro mitai ni tte modoritai wakejanai no
Nakushite kita
sora wo sagashite'ru wakatte kuremasu you ni
Gisei ni natta you na kanashii kao wa yamete yo
Tsumi no saigo wa namida ja nai yo, zutto kurushiku seotte'ku n da
Deguchi mienai kanjou meiro ni dare wo matte'ru no?
Shiroi nooto ni tsuzutta you ni motto sunao ni hakidashitai yo
nani kara nogaretai n da…genjitsu tte yatsu?
Kanaeru tame ni ikite'ru n datte Sakebitaku naru yo Kikoete imasu ka?
Bunan ni nante yatte'rarenai kara…kaeru basho mo nai no
Yasashisa niwa itsumo kansha shite'ru Dakara tsuyoku naritai (I'm on the way)
Natsukashiku naru konna itami mo kangei jan
I still have too long a life ahead to get rid of these feelings, right?
I want to try doing over all the things I've left undone.
I thought I was running after something carried over from my dreams,
Yet I'm stumbling into people on this narrow, winding road.
It's not like I want things to go back to the way they were,
I'm just searching for the sky I've been losing,
Here's hoping you'll understand,
Stop making that sad face as though you were a victim,
Sins don't end with tears, you have to carry the pain forever,
Who am I waiting for, in this maze of emotions with no way out in sight?
I want to purge myself more simply, as if writing in a blank notebook,
What is it i want to escape from?
...Is it reality?
It makes me want to scream that we're alive for things to come true. Can you hear me?
I can't put up with playing it safe...I've got nowhere to go home to,
I'm always grateful for kindness,
That's why I want to grow stronger,
(I'm on the way)
I even welcome this pain,
For the things I miss.
References
Edit