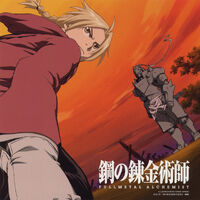 "Again" by Yui is the first opening theme for Fullmetal Alchemist: Brotherhood , serving as the opening for the first season. It was released on June 3, 2009 in two formats: a CD and a Limited Edition CD+DVD. "Again" appears on Yui's album Holidays in the Sun and is succeeded by "Hologram" in Episode 15.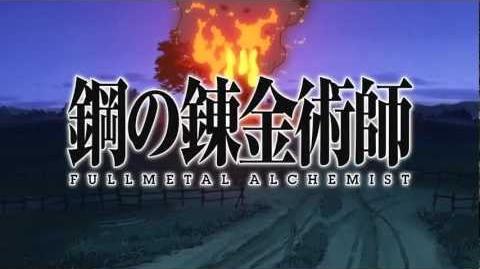 Appearances
Edit
Japanese Rōmaji
Kono omoi wo keshite shimau niwa mada jinsei nagai desho?
Yarinokoshi te'ru koto yarinaoshite mitai kara
Yume no tsuzuki oikakete ita hazu nano ni
Magarikunetta hosoi michi hito ni tsumazuku
Ano koro mitai ni tte modoritai wakejanai no Nakushite kita sora wo sagashite'ru
wakatte kuremasu you ni Gisei ni natta you na kanashii kao wa yamete yo
Tsumi no saigo wa namida ja nai yo,
zutto kurushiku seotte'ku n da
Deguchi mienai kanjou meiro ni dare wo matte'ru no?
Shiroi nooto ni tsuzutta you ni
motto sunao ni hakidashitai yo
nani kara nogaretai n da…
genjitsu tte yatsu?
Kanaeru tame ni ikite'ru n datte Sakebitaku naru yo Kikoete imasu ka?
Bunan ni nante yatte'rarenai kara…
kaeru basho mo nai no
Yasashisa niwa itsumo kansha shite'ru Dakara tsuyoku naritai (I'm on the way)
Natsukashiku naru konna itami mo kangei jan
I still have too long a life ahead to get rid of all these feelings, right?
I want to go back and finish the things I've yet to finish.
I was supposed to be chasing after my ongoing dream.
Yet I faltered over others while walking this thin, winding path.
It's not that I don't want to return to those days. I'm searching for the sky that I lost.
Don't make that sad face as if you've fallen victim, as if you want people to pity you.
Tears aren't the end of your sins. You have to bear them painfully forever.
Who are you waiting for in the maze of emotions, where you can't even see the exit?
I want to blurt it out more justly. Just like how I wrote it in my white notebook.
What do you want to run from, that thing called reality?
I just want to scream out, " I'm only living to fulfill my wish." Can you hear me?
I can't take the safe way out of everything... I don't even have to a place to return to.
I'm always thankful for everyone's kindness. That's why I want to become stronger (I'm on the way.)
This is reminding me of the old days. This pain is alright with me.
この想いを消してしまうには まだ人生長いでしょ やり残してることやり直してみたいから
夢の続き 追いかけていたはずなのに
曲がりくねった 細い道 人に躓く
あの頃にみたいにって 戻りたいわけじゃないの なくしてきた空を 探してる 分かってくれます様に 犠牲になった様な 悲しい顔は やめてよ
罪の最後は涙じゃないよ ずっと苦しく背負ってくんだ 出口見えない感情迷路に 誰を待ってるの 白いノートに綴った様に もっと素直に吐き出したいよ 何から 逃れたいんだ 現実ってやつか
叶える為に生きてるんだって 叫びたくなるよ 聞こえていますか 無難になんてやってられないから 帰る場所もないの 優しさにはいつも感謝してる だから強くなりたい 懐かしくなる こんな痛みも歓迎じゃん
References
Edit